What is a government gateway account?
25 Dec 2021

4

minutes

read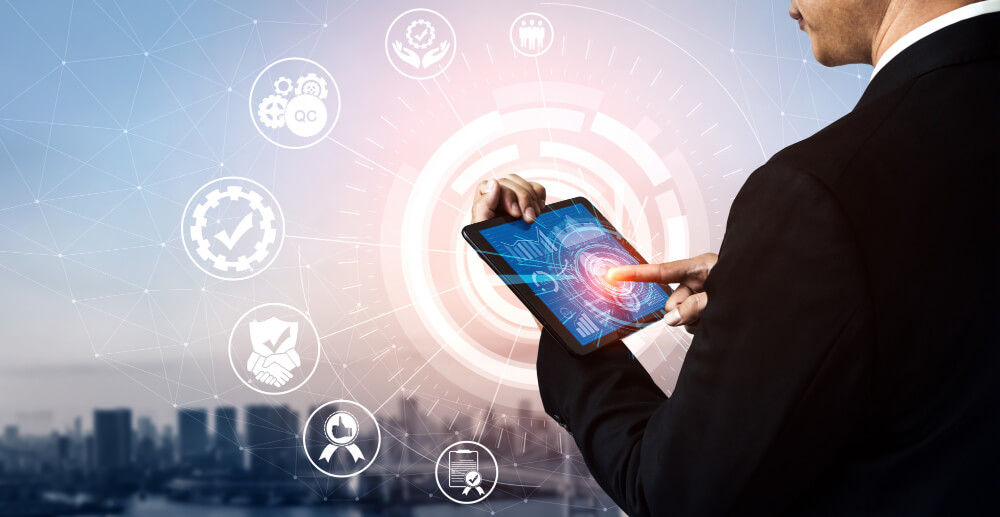 What is Government Gateway?
The Government Gateway allows the registered users to use online services provided by the UK Government. You can create a Government Gateway account and use your user ID and password to sign in to access these online services.
Some of the online services that you can access through the Government Gateway are:


| | | | |
| --- | --- | --- | --- |
| Air passenger duty for plane operators | EC Sales List (ECSL) | Money laundering supervision | Self Assessment |
| Alcohol & Tobacco Warehousing | Employment Intermediaries | New Computerised Transit System (NCTS) | Shared Workspace |
| Alcohol Wholesaler Registration Scheme | Excise Movement and Control System (EMCS) | Notification of Vehicles Arrivals (NOVA) | Soft Drinks Industry Levy |
| Tax on Enveloped Dwellings | Gambling Tax Service | PAYE for employers | Stamp Taxes |
| Automatic Exchange of Information (AEOI) | Gift Aid | Pensions Schemes Online | Tied Oil Enquiry Service |
| Charities Online | Import Control System (ICS) | Personal tax account | VAT |
| Construction Industry Scheme (CIS) | Landfill Tax | Rebated Oils Enquiry Service | VAT EU Refunds |
| Corporation Tax | Machine Games Duty | Rebated Oils Returns Internet Upload Service | VAT Mini One Stop Shop (VAT MOSS) |
| Customs Declaration Service | Managing Pension Schemes | Reverse Charge Sales List | |
How can you set up your Government Gateway account?
If you are signing up for an online service for the first time, you need to create a Government Gateway account. You can set up your Government Gateway account through the following 10 steps:
1. Visit access.service.gov.uk website to create a personal tax account for yourself. Click on the' create sign in details' option to sign in using Government Gateway.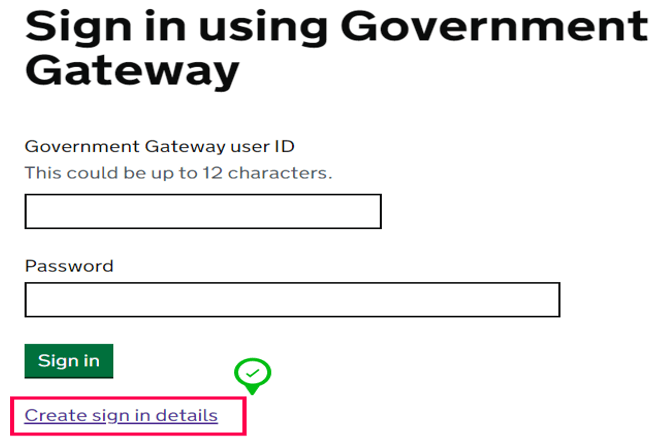 2. Enter a valid email address and verify it by entering a unique code sent by HMRC to the mail you just used to register.

3. After verifying your email address, you need to enter your full name.




4. Create a strong password for your account. While entering the password, make sure that the password:
has 8 to 12 characters
has at least one letter
has at least one number
does not contain any special character


5. If you cannot access your account in the future, you will need to enter a recovery word. While setting up your recovery word, make sure that the word:
has 6 to 12 characters
does not include any number
does not include any special character
does not include spaces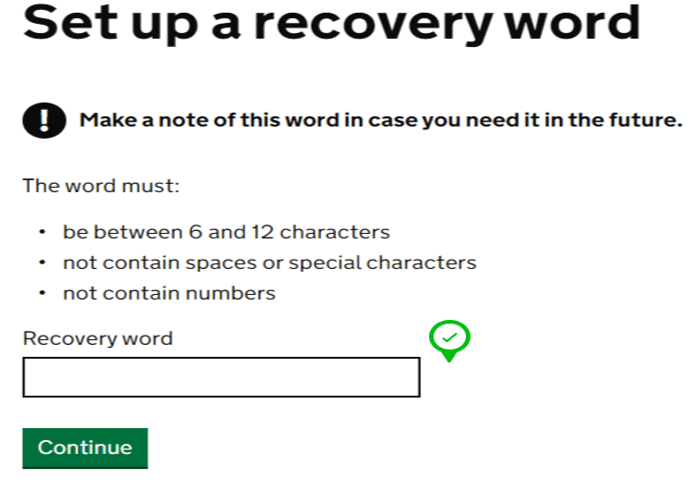 6. After completing the above steps, the screen will display a 12 digit system-generated Government Gateway user ID. Note down this ID and keep it safe to login in the future.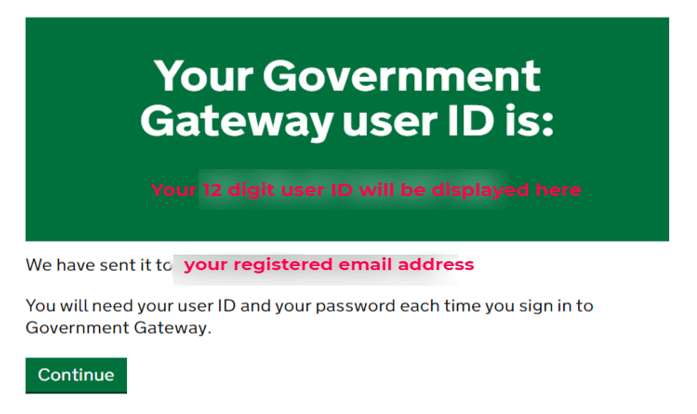 7. Choose what type of account you need for using HMRC online services.
There are three types of accounts: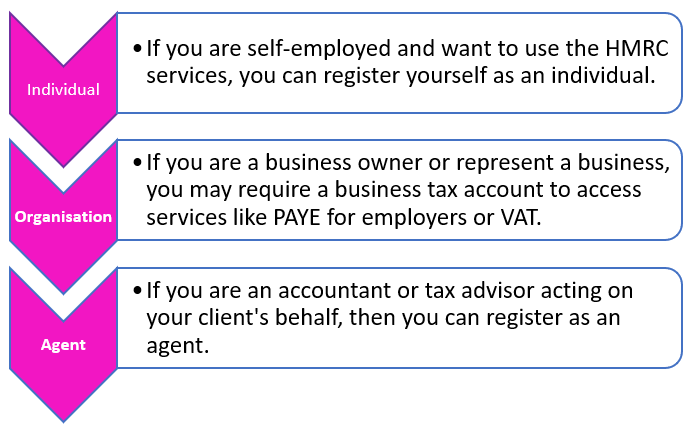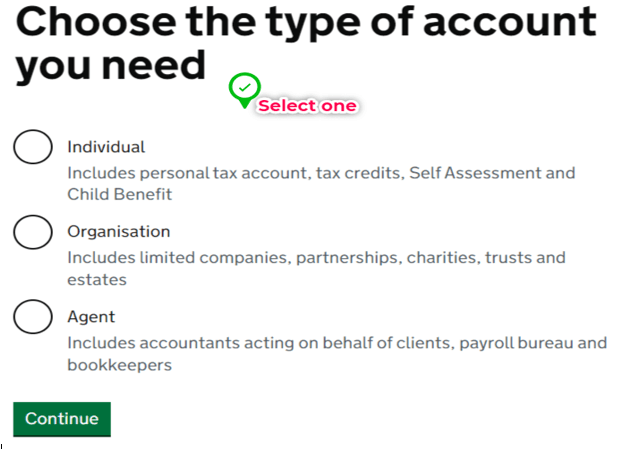 8. You can add an additional layer of security to protect your account details if they are stolen or lost in the future. Every time you log in, you will receive an access code from HMRC.
There are three options through which you can get access code:-
Text message sent to your mobile number
Voice call on your landline or mobile
Authentication app on your mobile device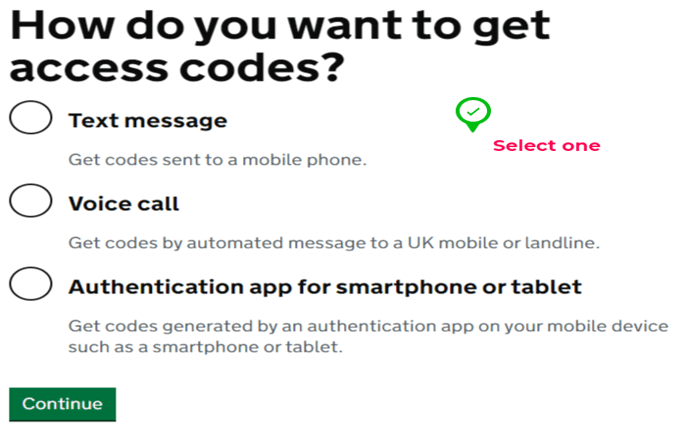 9. You will receive an access code after entering your UK mobile number. Enter this code to verify your identity.
In addition, you will have to provide third party security information to HMRC by answering a few questions (either password questions or multiple choice questions).
If you choose to answer the passport questions, then you must have your passport with you. This will allow you to enter details like full name, passport number and expiry date.


10. In the end, you need to choose whether you want to get your documents (like penalty notices for late filing and payment, tax filing notices, and more) by post or through your online account.
Now select the service you wanted.


Things to keep in mind while creating a Government Gateway account
It is essential to keep a note of your Government Gateway user ID (which is a combination of 12 digits) and your password so that you can easily access your account.
You must remember that your user ID appears on the screen only once at the time of registration.
If you already have a Government Gateway account, then you don't need to re-register. You can add the online services you intend to use to your account.
If you cannot sign in, get the assistance of HMRC services. If you forget your user id or password, HMRC will help you recover your user ID and reset your password.
Okay! Let's find you a perfect Accountant, Tax advisor or a Bookkeeper
Get Started
About author