A guide to crowdfunding
26 Oct 2021

5

minutes

read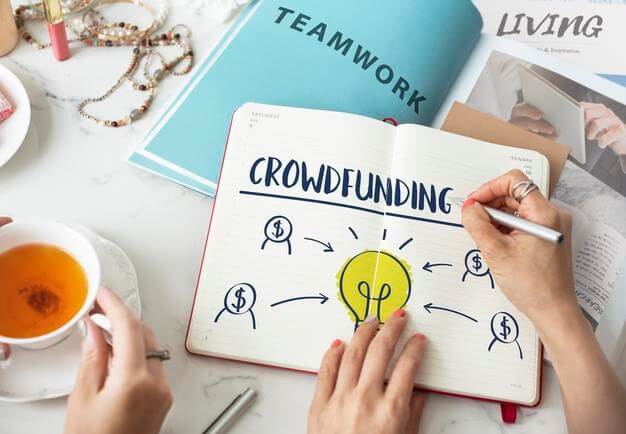 As crowdfunding grows in popularity, the competition for page views and pledges has intensified, particularly on portal sites that host thousands of active projects at once.
So, how can you ensure that your campaign is on the path to success? One way is to hire an accountant with exceptional skills.
Other than that, you can follow this guide to optimise your success.
1. Conduct proper research and formulate a good strategy
Every campaign has a well-thought-out strategy for each step of the project. A brilliant concept is only the beginning—the most successful entrepreneurs plan out every detail of their campaign.
Crowdfunders aim to attain 30% of their target in the first two days of their campaign, which necessitates some important effort on the front end to establish and engage your audience.
You can recruit a group of 10-15 trustworthy supporters to serve on your project's host committee, which will assist you in leading it in the right direction.
Campaigns that accomplish 30% of their target in the first two days have a significantly better chance of exceeding their overall fundraising goal. 
2. Set a low and achievable target
Setting your objective might be the most challenging element of launching a campaign, but there are several options to consider, including funding your project in phases.
Most campaigners who raise money successfully begin with a modest campaign by setting low, easy targets to achieve and gradually expanding their following.
3. Build your network
Relationships are the foundation of any society, and you already know how to build them. Planning your message strategy will be easier if you think about your network in tiers and decide what the audience in each tier wants.
Based on this, you can determine the message and communication technique you wish to opt.
4. Develop your social media presence
Do not undervalue social media's ability to spread your message and expand your audience.
You can conduct a successful crowdfunding campaign without using social media but think about the advantages of enabling your supporters to help disseminate your message throughout their digital networks.
Social media allows you to find your voice and discover more about what parts of your project pique your audience's interest.
Get out there and attend events connected to your product, service, social cause, or artistic endeavour. Make it simple for potential supporters to get in touch with you.
A well-organised team can assist spread your message by posting to social media, replying to queries, or updating your campaign page, whether you're working with business partners or friends.
In addition, work closely with your team to ensure that enough time is made out during the planning stages.
5. Strategise and budget for fulfilment pre-campaign
Even the most successful crowdfunding campaign might fail if you do not have a good fulfilment strategy.
If you are selling a product, then after your campaign, ship items to your supporters. The shipping costs can rapidly pile up when compared to the total funds you've received.
Plan for fulfilment by considering where your supporters are most likely to be, then researching the best (and most cost-effective) ways to transport your items to them. Then, to guarantee that your campaign remains profitable, incorporate these expenses into your rewards.
6. Grab attention
The first step is to create a memorable title and slogan for your campaign.
Step two is to attract your audience's attention with an eye-catching "campaign card" graphic. High-resolution, vibrant campaign card pictures that visually communicate your narrative work best.
7. Choose the type of funding you want
There are two types of financing available: flexible and fixed.
If you opt for flexible financing, you can keep all the money raised even if you do not meet your target.
Fixed option means if you do not achieve your funding target, you must return the money.
While either financing method might help you achieve huge goals, guaranteed money may offer your donors more trust.
A rule of thumb here is to set realistic funding targets.
8. Set a campaign deadline
It is essential to set a campaign deadline to timely conclude your campaign after reaching your target.
Be a precise and chronological list of your milestones, and make sure to sequence each step so you have enough time to complete all of your rewards.
9. Make a compelling and shareable pitch video
One of the most effective methods to communicate your narrative is with a pitch video. Your video can put your idea into motion.
Video allows you to speak directly to your audience and inspire them through music, movement, and human connection.
10. Tell the world your story
On a campaign page, you convey your narrative from the perspective of your target audience.
As you plan out your narrative of the text, photos, connections, and more, keep these pointers in your mind:
Before your viewer reads a single word, a stunning image should have the power to express the core of your campaign.
Remember that majority of the visitors will not spend more than a few seconds on your page before deciding to leave if your page doesn't appeal to them. Thus, a good and robust impression is essential.
Instead of adding pure text blocks, you should make your page attractive by adding headers so that the audience can easily absorb the information on the page.
Include any accolades or press coverage for your project below the synopsis at the top of your page.
11. Make full use of the perks
Perks are one of your finest tools for engaging and drawing an audience and are at the heart of each successful campaign.
Digital downloads and access to unique internet content, particularly for media-related campaigns, are also excellent choices.
Event tickets to a Zoom session with the project team are examples of "experience" benefits.
To generate excitement at the start of your campaign, consider including a limited quantity of rewards with special early-bird pricing.
To emphasise a particular perk at the top of your page, use the "featured perk" option.
12. Soft and Hard Launch
When beginning a campaign, it's a good idea to do it in two stages. The audience is what distinguishes a soft launch from a forceful launch.
The soft launch aims to get your internal network involved. When you're ready to share your campaign with the world, it's time for the hard launch.
Three days before your campaign launches, you can email your backers reminding them of the exact day and time. Now is the moment to send out extra marketing information via email and social media.
Send a powerful call to action that encourages recipients to give as soon as possible. Include a visible link to your campaign in the email's content.
13. Running your campaign at full speed
Create incentives that will catch people's attention and help your campaign get traction.
Adding additional rewards to your campaign after it launches is a wonderful way to re-engage potential donors. After you reach your financing target, you can inspire your audience to stay involved and push your project to new heights by introducing new incentives and benefits.
Use a "unlock" technique to make additional rewards or features available to keep your backers interested. Photos of new prototypes or snippets from your film may be used to keep your followers up to date.
Offer real-time engagement or a behind-the-scenes look to your backers, and they'll likely reward you with additional momentum for your campaign.
Okay! Let's find you a perfect Accountant, Tax advisor or a Bookkeeper
Get Started
About author