How to create a business plan: A complete guide to writing your company roadmap
23 Feb 2022

6

minutes

read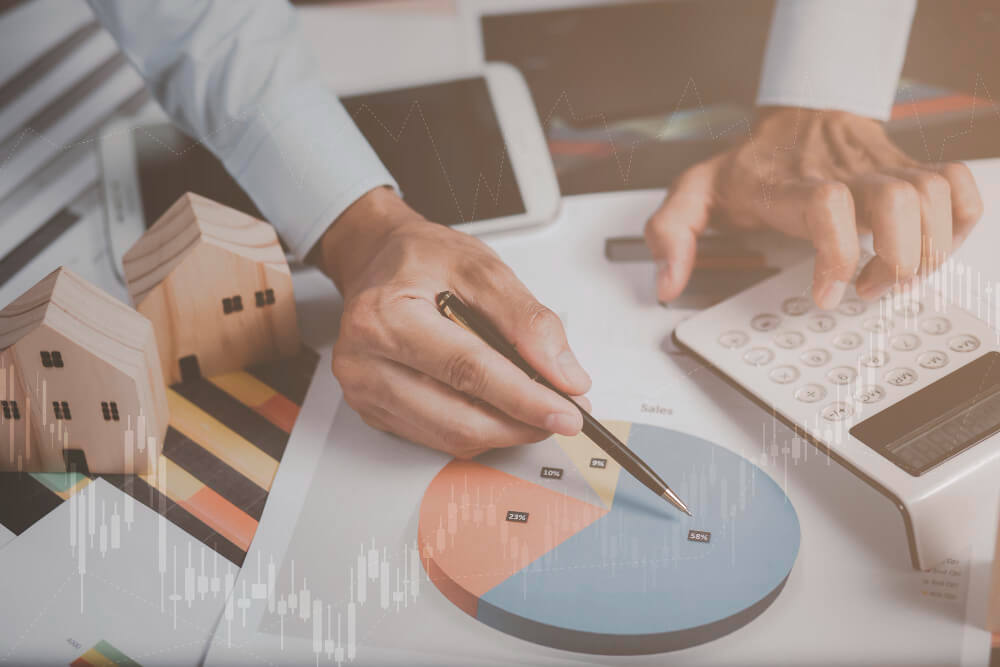 Any business's success is dependent on its ability to plan. Every successful firm examines its financial plan frequently to ensure that it continues to accomplish its objectives. A viable business plan is essential to the success of any business venture.
When you start a firm, it's essential to have a business plan.
A business plan summarises what your company does, how it operates, and, most crucially, what makes it unique.
We'll show you how to construct a business plan in the UK that will help you start, grow, and succeed.
Here is a summary of what is included in this blogpost:
What exactly is a business plan, and why is it necessary?
A business plan summarises your business objectives and strategies for achieving them.
Essentially, it aids you in putting the foundations in place for your company's success.
Why do you need a plan?
Firstly, no planning is usually a recipe for disaster.
Secondly, if you're starting a new small business, you'll need a business plan to do the following:
Capital raising
Obtaining loans
Recruiting new employees or business partners
Providing direction for your go-to-market approach
Keeping you focused and on track
A business plan also assists you to stay focused on what you need to do to achieve your objectives.
If you're unable to meet your goals, your business plan might help you figure out what needs to be changed.
As a result, having a business plan is crucial for established companies.


Writing your business plan
Check our 10 point guide to writing an effective business plan which your investors and lenders will simply love.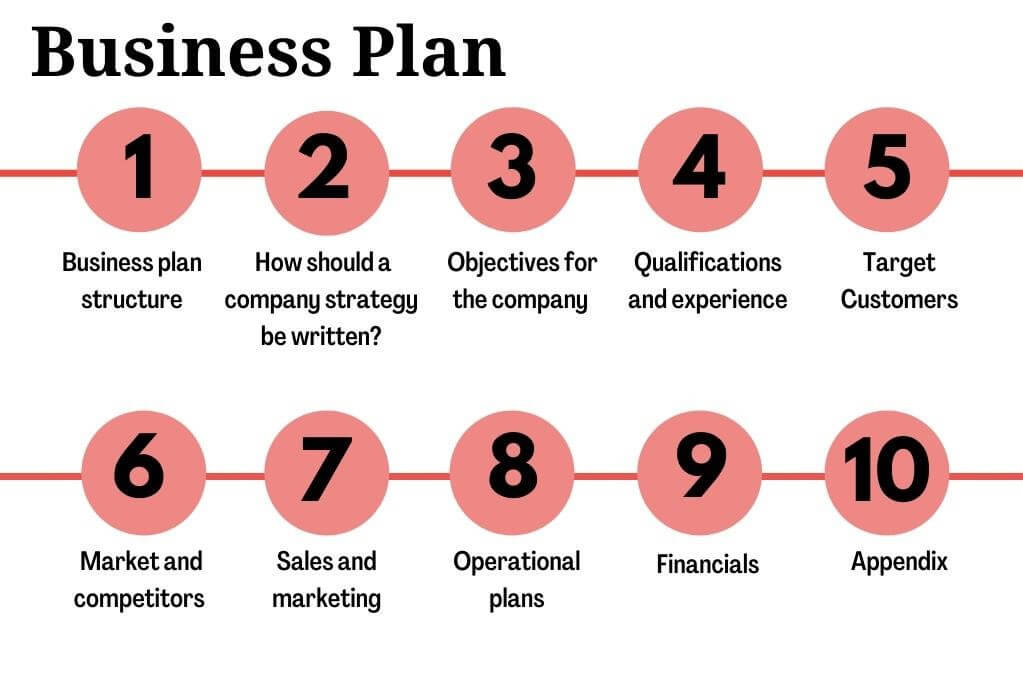 1. Business plan structure
It's critical to get the layout correct.
Make sure it is understandable, straightforward, easy to comprehend, and information is evidence and statistics based.
This section should include:
An executive summary comes at the start of the Business Plan and should be the final item you write, summarising everything covered in the document.
This section covers the business opportunity, demand, business proposition, how it will differentiate itself from the competition, financial forecasts, valuation and exit plan.
Keep it basic with short paragraphs and bullet points, and relevant graphs and tables if necessary.
If you're going to use statistics, make a source reference.
Keep it to a 10-15-minute skim read with only the most essential details. Add further information to the appendix for future reading.
2. How should a company strategy be written?
Research is the basis of any successful business plan.
You'll need to research your market, make revenue projections, and learn about your target clients.
In addition, a strong business plan should provide answers to essential questions regarding your company.
3. Objectives for the company
Your company's objectives summarise why it exists and what it wants to achieve.
Objectives must be SMART- Specific, Measurable, Achievable, Realistic and Timely.
It should be no more than a few paragraphs or a single slide lengthy, and it should include a high-level overview.
4. Core team
It's critical to demonstrate the strength of your human capital.
Include how your experience and talents qualify you to start your firm.
As an appendix, you can include a detailed organisational chart and critical timelines when you want to add more people to the team.
Be succinct; here, a few lines about each core team member and their expertise/ experience are enough. Remember, it is not a CV.
List relevant experience directly related to the new business and vital talents that will benefit the venture.
5. Target Customers
Any company plan revolves around its customers. Therefore, it's critical to demonstrate that you know your potential clients and what they want from your products and services.
Online research, focus groups, and questionnaires are just a few of the methods you may discover more about your target market.
This data will enable you to select the best marketing channels for selling the product at the best pricing.
Include demographic information about your customers – Gender, age, and average income or spending should all be summarised.
If your business relies on foot traffic, such as a coffee shop, or if it serves a specific geographic region, describe the location of your consumers.
If it's an online business, your reach may be nationwide, but be sure to include the target demographic, such as men and women aged 18 to 30, for example.
6. Market and competitors
Document the market you'll be operating in using your business plan.
Knowing what's going on in your market, which competitors to follow, and their strengths and weaknesses allow you to take advantage of market gaps that will help your business flourish.
It is your moment to demonstrate that you truly understand your market and that your company can effectively adapt to changing market conditions.
Things you can include here are:
Market overview
Market research
In a few paragraphs, describe the overall market, emphasising trends and developments that may present opportunities.
Sales growth, new technology, increased efficiencies, and new routes to market are just a few examples of current trends.
Describe briefly the market research you've done, such as surveys, web research, mystery shopping, attending trade events, etc.
Please don't conduct your study with family or friends because they will always be supportive and potentially biased.
SWOT analysis
USP
Conduct a Strength, Weakness, Opportunity and Threat- SWOT analysis for each competitor and your business.
Where does your business stand on this matrix?
What is your Unique Selling Point (USP)?
PESTL analysis
Market size
Conduct a Political, Economic, Social, Technological and Legal- PESTL analysis for your business and industry.
Include here the potential market size.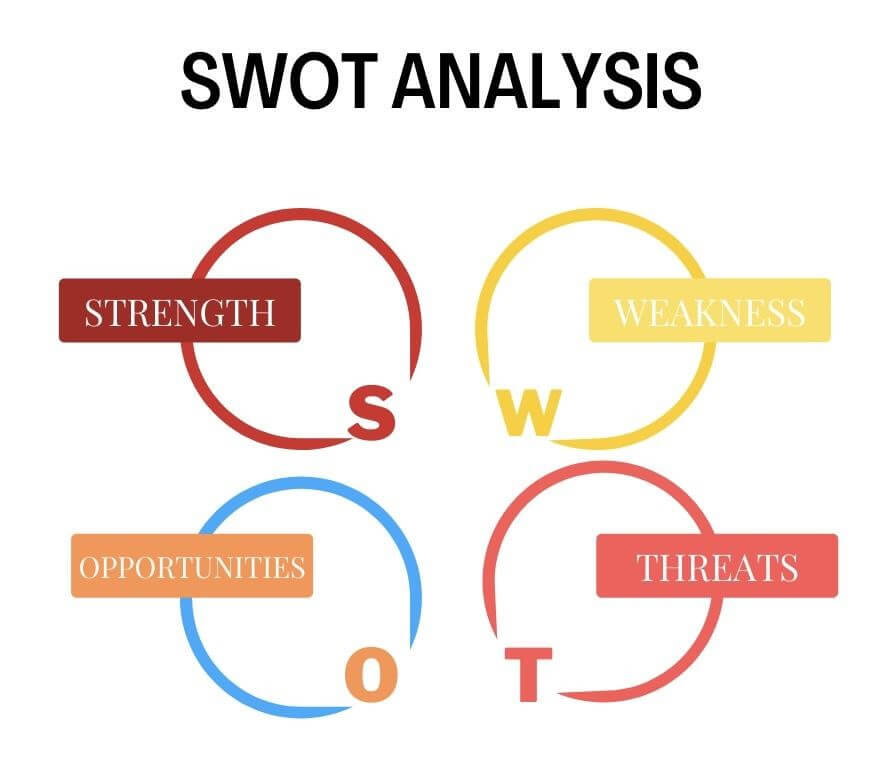 7. Sales and marketing
The financial success of your business depends on how many customers you acquire or the sales you generate.
So this section of your business plan includes:
how you'll reach out to customers,
how you'll sell to them; and
your marketing strategy.
Include the following items in this section:
How will you communicate with your clients?
Which marketing channels will you utilise to reach out to your target audience?
First, examine where your competitors advertise or promote their products or services.
Then, list two or three critical channels you can employ, along with a summary of the activity and your expected results.
Describe your sales procedures in detail
How will you offer your products or services - for example,
would you take orders online through a shop or provide personal quotations for your service?
What are the costs involved in selling?
What is your expected average revenue per sale?
What is the expected cost of acquisition?
What is the key message?
Examples could be Efficient customer service, better features, or a higher-quality product.
Make sure you convey that message with clarity and confidence.
8. Operational plans
The operational component of your business plan covers how your company will run, how much staffing you'll need, where you'll operate, and whose suppliers you'll hire.
You'll need to explain the reasoning for each one and include facts like salary and supply chain information.
This section should include the following items:
IT, systems, and equipment
Explain your company's IT and infrastructure needs, including the price of purchasing gear and IT platforms. For example, how long will it take to develop, and how much would it cost?
Include details of information management systems, bookkeeping, stock, and quality control systems in your budget for purchasing office equipment.
Where will your company be based? Explain your reasons, taking into account any specialised equipment. Explain why you choose this location if you're running a business, such as a shop. The cash flow estimate can incorporate expenses associated with the place.
Determine any regulatory criteria that your company must follow, such as food safety laws, taxes, government rules and regulations.
9. Financials
Financials provide a solid foundation for your business plan.
If you're already trading, you'll be able to utilise previous revenue data to forecast the profit and loss of your firm.
However, if you're a start-up, you'll need to clarify your assumptions and demonstrate the accuracy of your financial projections.
Therefore, this section should include the following items:
Show your business activity over the last six months in a 'real' cash flow if you're already trading.
Create a 5-year forecast
Balance sheet
Profit and loss account
Cashflow forecasts
A detailed breakdown of sales
A detailed breakdown of expenses
A detailed breakdown of salaries and employee costs
Business valuation
A critical set of assumptions
Scenario analysis- what-if analysis
Directors or founders account funding
Show all of the start-up costs that the company has paid and will pay. Include a breakdown of critical assumptions, such as pricing and the cost of any necessary equipment or machinery.
Be realistic when it comes to funding
Determine the start-up costs required to get your business up and running.
Explain how much money your company will need, what it will be utilised for, and what kind of money you'll need.
What are the risks associated with your financial projections?
How will you deal with these dangers?
What is your strategy for exiting the market if something goes wrong?
10. Appendix
The appendix should contain any supporting materials.
You can skip this stage if a lender or investor has requested no additional documentation.
However, it's a fantastic area to add to your company plan, such as:
Reference letters
Patents
Credit reports
Permits and licences.
Contracts or purchase orders with clients
Documents of legal importance
Memberships and associations
Create a clear table of contents and parts that correlate to the business plan section in the appendix.


Final thoughts
So there we have it: a detailed guide on writing a business plan. It's a necessary and beneficial document whether you're just starting a business or trying to grow an existing one.
An excellent business plan is precisely created based on your knowledge and understanding of your company and its market.
Whether you're using it internally or externally, it can help keep you on track with your ambitions. Remember to keep it updated.
Okay! Let's find you a perfect Accountant, Tax advisor or a Bookkeeper
Get Started
About author