How can accountants work from anywhere but still deliver excellent client service?
26 Aug 2021

6

minutes

read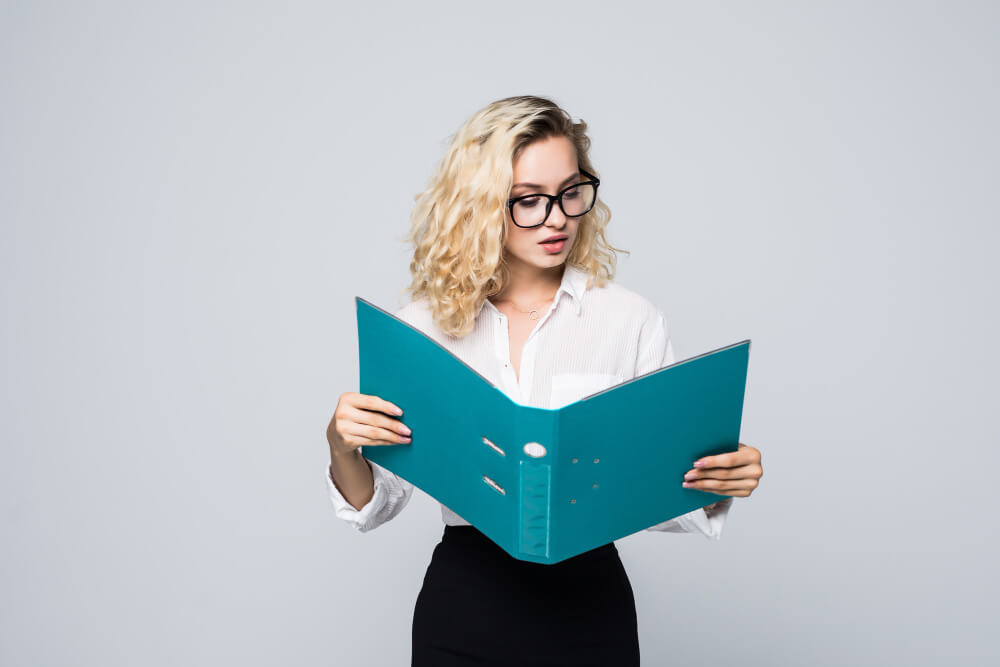 Most people regard accountants and the accounting profession as working behind a desk in an office, interacting with clients, and dealing with mountains of paperwork.
Working from home, with no face-to-face meetings or paper transfers, may appear impossible.
Accountants deal with the fundamentals of taxation and compliance and provide payroll services, tax advisory or generate business intelligence.
A single home-based freelance accountant may now do all of this independently, thanks to cloud-based accounting software and productivity tools.


Know why accountants are important for a business

Contents
Can accountants work from home?
Challenges in pursuing a career as a freelance accountant
How can accountants work from home effectively?
Perks of becoming a freelance accountant
Why should you outsource accounting?
Can accountants work from home?
Accountants are certainly capable of working effectively from home without compromising on service quality. Many businesses provide flexible work arrangements that allow accountants to work from home using online accounting systems and interacting via email.
Working from home is feasible to increase productivity while also creating a more pleasant working atmosphere.

Know how to become an accountant

Challenges in pursuing a career as a freelance accountant

There are several challenges a freelancer accountant faces, including:
The very first challenge any freelancer faces is drawing the line between work and personal time.
Concentration or lack thereof.
costs involved in setting up a home office.
Different computer setups at the office, including screens and systems that don't appear or operate the same.
Facing issues in communicating effectively with clients and employees.
Unable to access essential accounting practice software- if not cloud-based.
Cybercrime poses a threat to sensitive client data.
Having to market themselves digitally for further work constantly.

How can accountants work from home effectively?
A freelancer accountant can handle the impact of the challenges mentioned above if they build an efficient work management process. Organising your work to overcome the challenges you face as a freelancer is what makes you stand out from others when it comes to delivering work.

Here are a few tips that assure freelance accountants can work from anywhere and yet manage to render desired deliverables.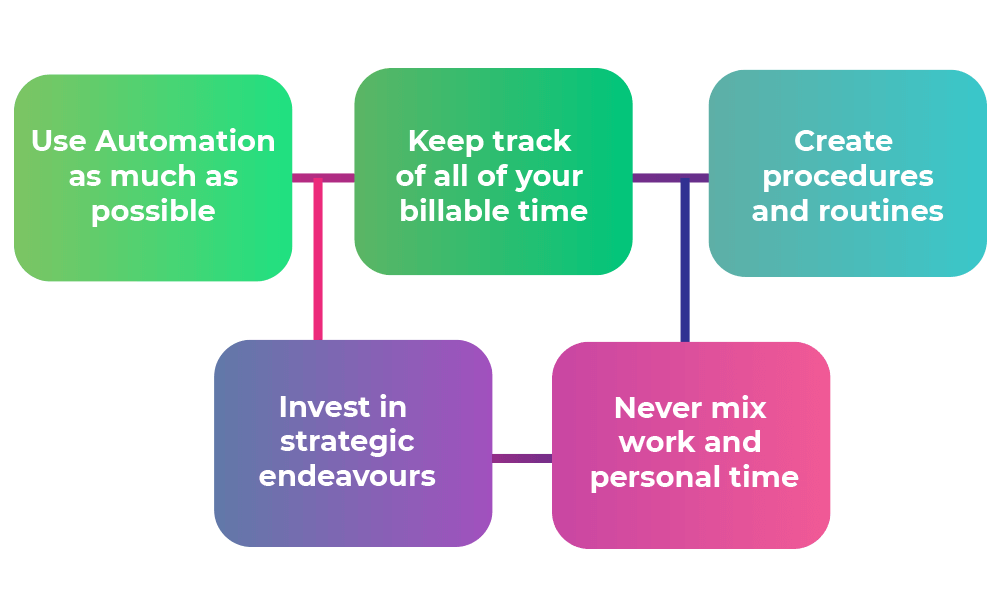 Use Automation as much as possible.
Using technology's advantages means decreasing the amount of time you spend on your job, speeding it up, and avoiding the mistakes that come with manual data processing.
Adopting tools that automate your job is crucial in creating your work routines, so it's worth trying out different solutions and identifying the ones that work best for you.
Many independent online accountants opt to operate their businesses utilising cloud-based accounting software such as Xero or QuickBooks Online Accountant.
It allows data storage in one location, eliminates constant software updates and accessibility issues.


Know the best accounting software in the market

Keep track of all of your billable time
Being your own boss frequently entails ignoring work time accountability. When no one is hounding you for timesheets, why keep track of it? That is, however, the primary reason why many freelancers are underpaid.
Freelancers generally don't keep track of how much time they spend on their clients' job assignments and, to be safe, often under-bill.
It can be challenging to determine how productive a remote accountant is in this situation.
As a result, employing a timekeeping and project management tool is critical.
Freelancers find keeping both time and billing in one location efficient.
If you're looking for a time-tracking software solution for your practice, be sure it allows you to calculate billable amounts, assesses your productivity and allocates times to each project.
Create procedures and routines
Starting a freelancing profession necessitates the creation of new work procedures and habits.
If you skip this step, you'll end up doing manual work, which is inconvenient and reduces productivity. That is why freelancers that put out some effort in the beginning to establish procedures thrive in the long run.
You can automate monotonous tasks and activities to save time.
Create a process for invoicing, payroll processing, client communication, and so on, and analyse ways to improve.

Invest in strategic endeavours
One of the most challenging tasks for most independent accountants is promoting their services. Not all accountants are natural marketers; hence some end up struggling to get clients.
It's ideal if you have some contacts from prior employment or projects, but in any case, you'll need to concentrate on attracting new clients and keeping the ones you already have.
Building your digital presence and personal brand may appear to be new territory that necessitates a lot of effort, but it is more straightforward than it seems.
You may begin by increasing the social media following and soliciting comments and reviews from current consumers, then expand your promotional efforts with ad campaigns. You can also host webinars, podcasts and write in accounting journals.
Make an attractive website that resonates with your target audience and write regular blogs.

Never mix work and personal time
Business activities intrude into personal time because there is no such thing as an eight-hour workday or a forty-hour working week for freelancers.
Fatigue, decreased productivity, scepticism in the workplace, and communication are all expected outcomes.
Another consequence of failing to separate work and pleasure time is procrastination on the internet all day, which jeopardises deadlines and damages one's reputation and career.
Take precautions to avoid this. Making and sticking to a timetable is an intelligent approach to keep work and relaxation distinct. Schedule time for non-work-related activities and determine your availability.
Perks of becoming a freelance accountant
Working as an accountant from home has several advantages. Below are the top four perks of being a freelancer. Know why working from home is preferable to working in an office.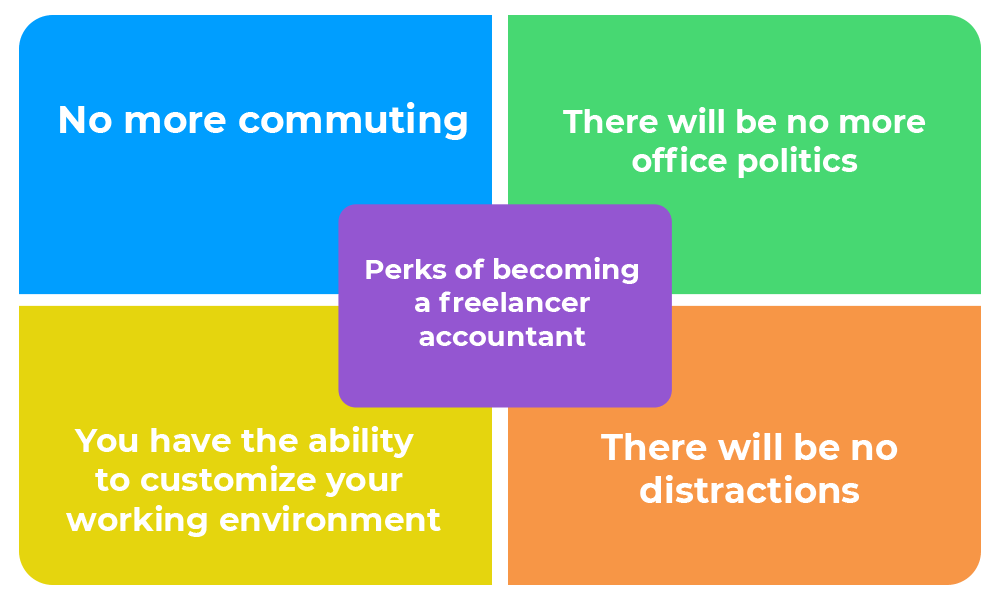 No more commuting
It's almost unbelievable how much time individuals spend every day travelling to and from work.
If you live in a big city, you're familiar with rush hour traffic and the stress that comes with it.
When there are delays on the rail or underground trains, car accidents, or road construction work, you won't have to worry about traffic delays.
Another factor to consider when you don't commute is the amount of money you'll save on petrol/diesel/electricity and car wear and tear. For example, a yearly season ticket from London to Milton Keynes costs over £6,000!
Fuel is expensive, and the more miles you drive, the faster your car will wear down.
There will be no more office politics

You won't be working with people if you work from home. This implies you'll be able to dodge a lot of office politics.
Because you may have minimal or no interaction with other employees, differences in opinion and conflicts of interest are reduced.
Working from home is also beneficial for introverts who find working in a group setting to be exhausting.
You don't have to worry about making small conversations with employees while you work from home.

You can customise your working environment
Do you like to set your thermostat to a specific temperature? Perhaps you prefer to work with some calm mood music playing in the background.
Maybe you love the odd snack or beverage while working - something that many offices would ban.
Working from home has several advantages, one of which is the ability to design your workspace precisely how you want it.
This may go a long way toward lowering stress levels, improving personal comfort, and making work more pleasurable.

There will be no distractions
Another excellent benefit of working as an accountant from home is that you won't have to deal with most offices' distractions.
This can help you be more productive while also lowering your stress levels.
There will be no more employees attempting to sign you up for the newest multi-level marketing scheme since there will be no more office distractions.
There will be fewer interruptions and a lower level of noise. It also means less clutter, more occasional unnecessary meetings, and no more mobile phone noise from your employees.

Why should you outsource accounting?
When you outsource accounting, you free up the time taken in carrying out the accounting operations on your own.
You can invest this time in daily operations that can drive more sales and bring in new customers.
If you hire an accountant or employee full-time or part-time, you are burdened with providing them with benefits packages.
But when you bring a remote accountant or accounting firm on board, you only pay for the services you need. You can scale quickly.
By outsourcing accounting to an accounting firm, you can be ensured that you hire a team of account experts.
They are professional accountants with more knowledge of tax codes and law backwards and forwards.


Know how to choose an accountant

Wrapping up
Freelancing sets new challenges to accounting professionals who decide to leave office work and start a career independently.
You can handle these challenges by structuring activities, organising and automating workflow, and keeping track of your time.
Use them to create an efficient work process, define and plan workloads, and create a successful independent career.
Okay! Let's find you a perfect Accountant, Tax advisor or a Bookkeeper
Get Started
About author