Interview questions to prepare for your next accountancy interview
27 Aug 2021

6

minutes

read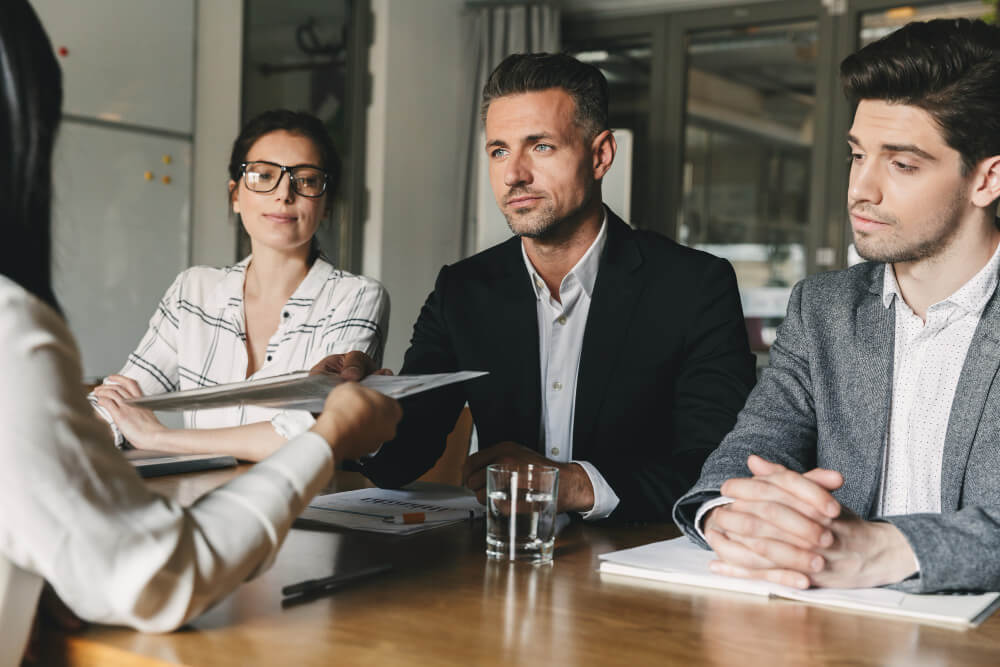 Accounting is a job that will never go out of style, as there will always be a need for qualified accountants in all businesses. 
For individuals with a knack for statistics and analytical skills, it can be an excellent career choice.
To advance in your profession as an accountant, you'll need a firm grasp of financial principles, accounting, tax, and compliance areas.
You've come to the perfect site if you're planning to attend an accountant interview and want to know the most common accountant interview questions.

If you would like to know how to become an accountant, check out our blog

Contents:
Top three assistant accountant interview questions
Top three trainee accountant interview questions
Top three management accountant interview questions
Other common accountant interview questions and how to answer them
Skills recruiters look for in accountants
Tips to prepare for your accountancy interview

Top three assistant accountant interview questions
"Tell me about a time when you met a deadline at work and how you organise and prioritise your time."
"Tell me about an incident in your previous work when you had to deal with a tough and complex query."


"Describe a moment when you had to manage several responsibilities that needed you to be extremely precise, as well as how you managed your time."

Top three trainee accountant interview questions
"What month-end accounting tasks do you think you're now unsupervised and don't need your supervisor's help with?"


"Give me an example of project work you've done that isn't part of your regular month-end account producing duties."


"Tell us some instances of reporting and analysis, management accounts, financial accounts, and year-end statutory accounts preparation from your job experience?"

Top three management accountant interview questions
"Tell us about your people management style and plan for establishing your team's objectives, ambitions, and personal career aspirations."


"How do you manage your weekly accounts production and people development goals so that you can respond to ad hoc situations that demand your immediate attention?"


"What commercial initiatives have you executed outside of managing a team and the objectives for delivering the accounting production?"


Know why you need an accountant for your small business owners

Other common accountant interview questions and how to answer them
Tell me about yourself
This is one of the most common questions asked in many interviews, irrespective of the industry's job position.
Now how a candidate answers this question is what defines them. While it may seem to be a straightforward question, it is not.
You will understand the importance of this question and how you should have prepared for it when you stumble for words to tell about yourself in the interview.
How to answer this question?
You can start to answer by mentioning basic information about your background and then move on to tell things specific to the job role, your skills, passion and experience.
You can also talk about your plans for career growth and how this role will help you in it. Make sure to mention your achievements so far. 
What are the accounting processes that you are familiar with?
Recruiters will want to know if you are capable and experienced in the accounting processes their company uses.
Suppose you know the processes other than those the company operates, then it's also an advantage.
Remember to read the job description before the interview and mention it when asked this question.
How to answer this question?
For example, let us consider that you have been called for an interview by a company that requires the candidate to have prior experience in tax reporting.
When asked in the interview, bring up the times you reported on your previous company's taxes and mention other relevant accountancy processes that add to your expertise.
If you lack any specific part of the job description, you can always say that you don't have prior experience and express your willingness to learn. 
How do you reduce the chances of errors in your work?
As an accountant, your work must be detail-oriented. Any minute error can have a substantial negative financial impact.
Human error is possible; however, recruiters will like to hear your strategies for minimising such mistakes and how you deal when mistakes occur.
How to answer this question?
You can answer this question by providing an example of an error in your previous company and how you dealt with it.
You must let the recruiter know that you are clear on your commitment to the assigned work while ensuring high accuracy standards. 
Why do you want to work for this company?
Whenever you apply for a job role at a company, you must research the company to decide whether the company is suitable to your liking.
An interview is a two-way process; the recruiter assesses whether the candidate is a good fit for the role while the candidate considers whether the organisation is a good fit for them.
How to answer this question?
When you research the company, you will get an idea about its goals, mission, and core values.
Check if your individual professional goals and ambition align and fit with what the company aims for.
If yes, then you can answer the same for this question. You can also talk about how the company culture and practices interested you. 
How do you keep up to date with the latest developments?
Keeping abreast of innovation in technology and ever-changing tax rules is very important when you work as an accountant.
Taking an active part in discovering what is new in your industry shows how dedicated you are to your career.
How to answer this question?
Show the recruiters that you are aware of the latest development and technology and share your view of the financial world. 


Know about the different accounting software in the market

Skills recruiters look for in accountants
Recruiters say that applicants with experience working in accounting for a large firm are the most preferred.
But don't let it dissuade you if you don't have it! You can differentiate yourself by demonstrating a variety of additional skills and experiences.
When interviewing for accounting positions, it's critical to show a good blend of technical and soft abilities.
One of the most common misconceptions about accountants is that they sit for hours in front of a computer, staring at numbers and ludicrous formulas entered in Microsoft Excel.
On the contrary, to be successful in the job market, accountants must exhibit abilities in various areas, including communication, technology, critical and strategic thinking, data analysis, and time management.
Written communication
Hiring managers would prefer to know as an accountant whether you can prepare reports, create work papers, create and modify presentations and provide updates to internal and external stakeholders as required.
Verbal communication
Strong verbal communication skills are critical for success in accounting because you'll be communicating with clients, both internal and external, in almost every part of your job.
Time management and prioritisation
Accountants are tasked with many responsibilities, particularly during month-end, quarter-end, and year-end accounting.
You could be in and out of client meetings, creating work papers, analysing financial documents, and taking your customers through their accounting procedures in a single day.
It's critical to perform well under pressure and organise work to complete your responsibilities on time.
Technical experience
Accounting is, without question, a highly technical profession. Accounting software creates financial statements, journal entries, account reconciliations, and other critical accounting activities.
Recruiters prefer that you stay updated on the latest emerging technology in the field because you'll be using them daily.
Interpersonal skills
Unlike the image of a selfish office-bound individual protecting the petty cash, accountants require excellent interpersonal skills to work successfully as part of a team.
They should assist the co-workers by reducing complex spreadsheets into easy-to-understand formats and helping others learn about the company's financial condition.

Tips to prepare for your accountancy interview
Ace the STAR interview technique
Be familiar with this technique if you want to answer any competency-based interview question with a clear and concise structure.
What does STAR stand for?
STAR is an acronym of four stages to answer a typical interview question.
The four stages are situation, task, action, and result.
Situation: Describe the particular scenario you were in at the time of the experience you are referring.
Task: Explain the task or challenges you faced in that particular situation.
Action: Let the recruiters know what you did to change the situation for the better.
Result: Explain the outcome of your action.
Get your CV or resume right
CV is vitally essential for any job role you apply for. It should tell a story about you, your experience, skills and your career to date.
Don't give detailed information on your CV but ensure that you include your promotions, key skills, qualifications, and achievements.
Prepare in advance for the standard interview questions
There might be occasions in your previous job interviews where you might not have answered the question correctly.
Now is the time to recollect those questions along with the commonly expected accountant interview questions.
If you are an experienced accountant looking for a job change and have applied for the same, the recruiter will test your knowledge and skills.
So prepare yourself to answer those questions.
First impressions count
Smile and give a friendly, firm handshake with direct eye contact when introducing yourself to the interviewer.
Do not fidget or cross your arms during the interview as they imply nervousness. You may not know you are doing any of this, but the recruiter will spot them easily.
Do not use a monotone voice, for it means you are bored or pretentious. You need to show your excitement through your voice, for recruiters prefer energetic and dynamic candidates. 


Check how accounting can help small businesses succeed

Wrapping up
Preparing for the questions mentioned above, developing or brushing up the skills described, and using the tips given will give you a heads up on the other applicants.
We hope that your interview goes well, but there is no need to go hopeless if it doesn't.
Take it as a learning opportunity, seek for feedback, upgrade your skills and prepare for your following interview.
Practice makes perfect, and so keep on practising until you get your dream job.
Okay! Let's find you a perfect Accountant, Tax advisor or a Bookkeeper
Get Started
About author