Top 10 investments to make money
29 May 2022

6

minutes

read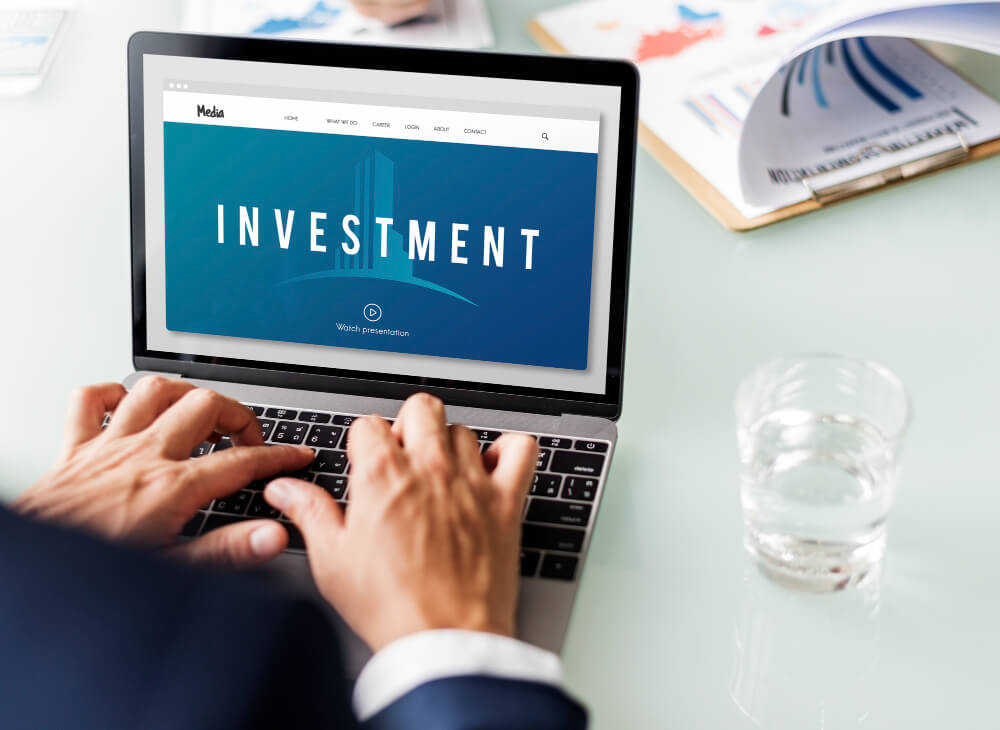 The financial landscape can be a fast-paced and ever-changing environment. Those that take the time to learn the fundamentals and the various asset classes, on the other hand, stand to gain profits over time.
Saving money is an excellent habit to develop; we've all done it for something, whether it was a down payment on our first home, a dream holiday, or a home improvement project.
Having the discipline to set aside a small amount of money each month is an excellent approach to managing money, especially if you can do so through a direct debit, which makes it a formal commitment.
Learn about the top 10 investments to make money if you've been saving for a long time or have a lump sum you'd want to invest but aren't sure where or how to begin.


How much money can you start Investing?
It's critical to separate the money you wish to invest from your emergency fund and ordinary spending pot before you begin investing.
At least three times your monthly living expenditures should be in your emergency fund. It will keep you from dipping into your savings if you face a significant financial setback, such as a job loss or a severe health problem.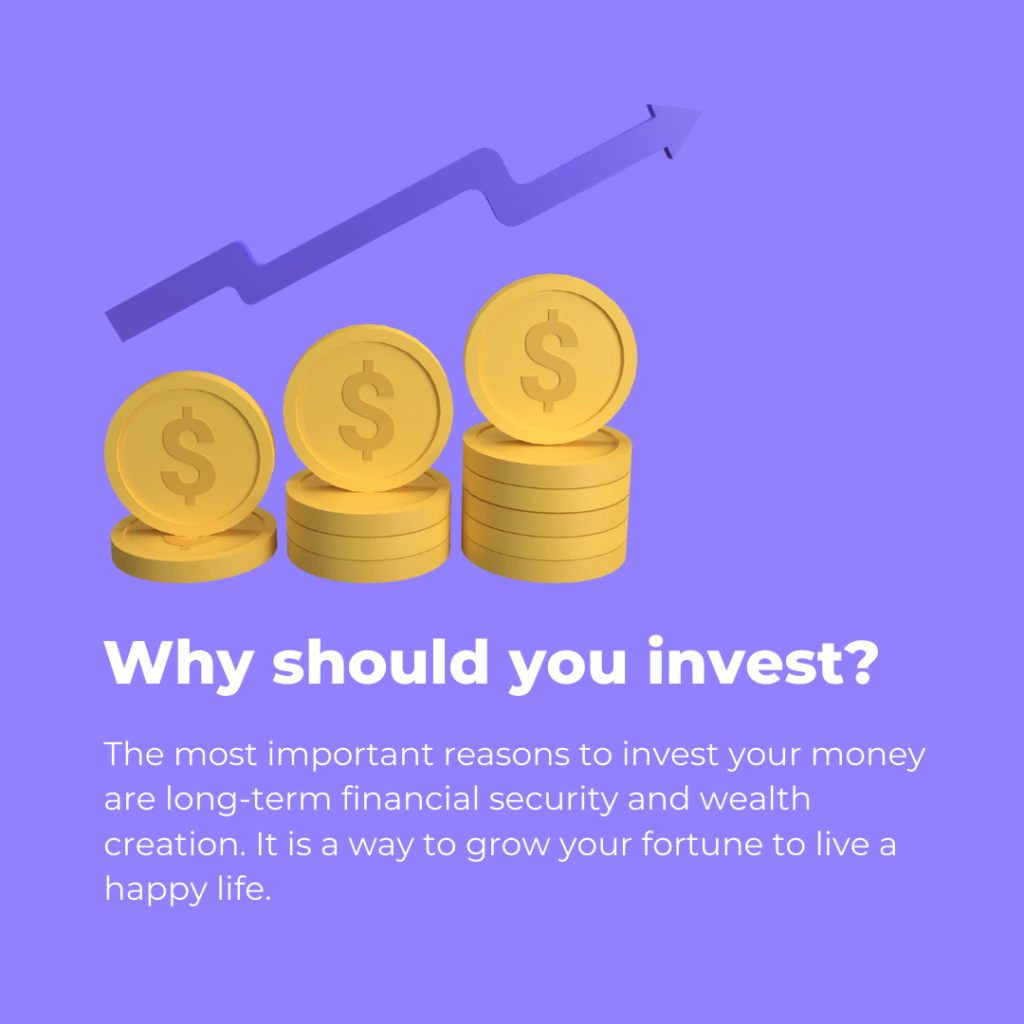 You should also maintain an everyday spending account not to feel compelled to withdraw money from your investments every time you need to buy groceries or meet up with friends.
More importantly, before investing, you must assess your whole financial situation.
Paying off any outstanding debts could be part of this. If you owe £4,000 on a credit card with a 20% interest rate, it will cost you £800 a year to repay the debt.
If your assets are unlikely to match this return, it's a good idea to pay credit card debt and other high-interest loans.
You can invest as much or as little as you'd like if your finances are in order.
Most investment platforms and advisers will let you start investing with as little as £25 per month, and some even accept as little as £1 per month.


Best ways to invest money
Investments to make money are made for long-term financial security and wealth creation. It is a way to grow your fortune to live a happy life.
If you think about where to put your money, you should first figure out your objectives, so you can choose the ideal place to save.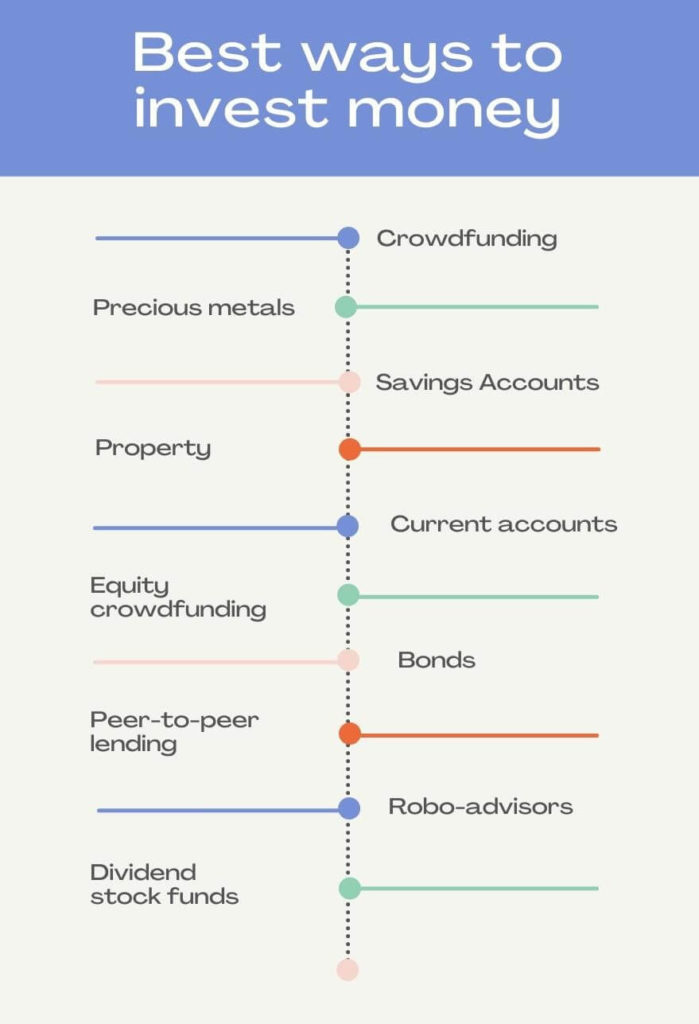 Crowdfunding
While the internet has transformed how users connect their bank accounts and share investment assets, it has also opened up new possibilities for sensible, wise, and cost-effective money management.
Previously, if a company wanted to support a project or venture, it would have to contact a limited group of people for funding, and they would ask for large sums of money. These firms can now reach millions of people instantly and need to only ask for small sums of money. It is, in essence, the crowdfunding principle.
Businesses that choose to go the crowdfunding way can target their investor market online, making this a quick and straightforward approach to expanding a firm.
It is a low-risk way for the investor to make money while also contributing to a cause you believe in and assisting deserving firms who may struggle to obtain necessary financing from banks or other lenders. In other circumstances, however, there is no guarantee of a refund.
There are certain sorts of crowdsourcing, such as reward crowdfunding. Your investment is more of a gesture toward financing a project, and you don't expect a financial return, such as a product or tickets to an event.
On the other hand, other forms of crowdfunding may appeal to a minor investors wanting to profit from rising stock prices, dividends, or even property investments.
Precious metals
In smaller amounts, you might also invest in other asset classes, such as precious metals like gold and silver.
They are an excellent way to diversify your portfolio because they are unrelated to the stock market. In other words, if stock markets decline, the price of gold may rise as investors seek a "haven" asset to store their money.
Traditionally these have been described as an inflation hedge too.
You can invest in precious metals by purchasing a precious metals investment fund.
Savings accounts
Savings accounts come in a variety of shapes and sizes. Still, they all have one thing in common: they're safe and low-risk, making them excellent if you're not saving for anything specific and won't require access or a return on your investment anytime soon.
You can agree to pay a set amount regularly and, in some situations, profit from a fixed rate of interest, some of which are more advantageous if you agree to pay for a set period, such as 12 months.
Even if interest rates aren't particularly appealing at the time, you're establishing a solid and reliable fund for when they are. Alternatively, you can set aside money to enable you to transfer to a more lucrative investment at a later date.
Following the base interest rate hikes of the year, high-interest savings accounts are enjoying a slight increase. The new Personal Savings Allowance, implemented in the UK in 2016, allows basic rate taxpayers to earn £1000 in interest tax-free.
When it comes to savings accounts, tax is a big concern, but if you save enough money, you can get high returns while avoiding paying too much tax.
Property
We've all seen how housing prices have risen, so it's no surprise that individuals are investing in real estate. While most people think of real estate investment as limited to residential properties, you can also invest in commercial properties such as warehouses and shopping malls.
Purchasing an investment trust, in which management selects several properties, is an intelligent approach to investing in commercial property.
Equity crowdfunding
It is a method of raising funding in which a company asks people to invest a small sum of money in exchange for shares. The internet platforms allow you to select a specific business to invest in, and they will supply you with all relevant information, including estimated returns and investment terms and conditions.
There is usually a minimum investment amount, although it can be as low as £10. Many crowdfunding platforms specialise in fast-growing startup enterprises, and this is where you may make a lot of money.
Bonds
While you can directly invest in bonds, it is not the most straightforward process. Putting all of your money in one government or company's bond might also be dangerous.
As a result, many people prefer to invest through mutual funds. The online platforms will combine your funds with other investors to purchase various bonds. You can also select funds that invest in multiple assets, not simply bonds. There's also the advantage of having a professional fund manager invest and manage your money.
Peer-to-peer lending
Also known as debt crowdfunding, an investor lends money to a company or initiative to fund a project. The loan is then repaid over time with interest. It is less profitable than stock crowdfunding because you don't have a stake in the company, which could be highly successful. But, once again, it's low-risk and transparent, and the projected returns may appeal to you.
Robo-advisors
Robo-advisors might be the ultimate passive investment. A Robo-advisor will build a diversified portfolio and manage it for a minimal advisory fee.
It will include rebalancing and reinvestment of dividends regularly to maintain target asset allocations. As investment funds your account, the only thing you'll have to do is sit back and relax.
Dividend stock funds
Dividend-paying stocks might help to protect your stock market assets.
Dividends are portions of a company's profits that can be distributed to shareholders regularly, usually every quarter. You will not only gain a return on your investment over time, but you will also be paid in the short term if you buy in a dividend stock.
Dividend stock funds are a good choice for practically any stock investor, but they are perfect for those seeking income. These may appeal to those who require payment and are willing to invest for prolonged periods.


Final thoughts
Investing is putting money aside to see it rise in value over time. When you invest, you're placing your money into assets with the hopes of their appreciating it in the future. If you are willing to take a higher risk, you can also consider short-term investments in the UK.
In general, you can invest your money safely over several years or rapidly, though impatient people risk losing most or all of their money. So decide after evaluating all the risks.
Okay! Let's find you a perfect Accountant, Tax advisor or a Bookkeeper
Get Started
About author