What's the difference between a Bookkeeper and an Accountant?
12 Apr 2021

4

minutes

read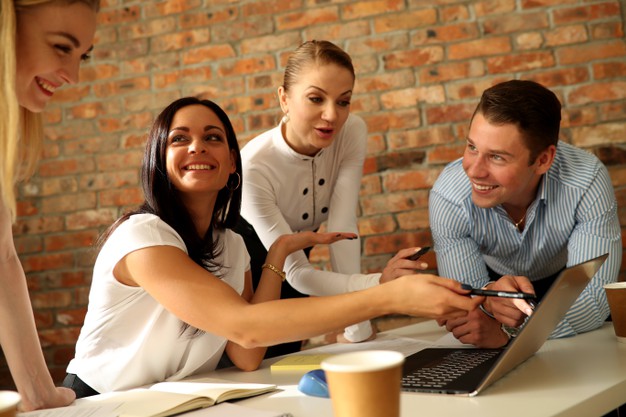 What's the difference between a Bookkeeper and an Accountant?
Whenever we talk about starting any business, accountants and bookkeepers are the two words that will always pop into our head.
We get confused between accountants and bookkeepers and take them as a single entity, but the fact is way more different, actually!
There are significant differences between these two, the work they do and in need of them in your business.
Here we will figure out the differences between a bookkeeper and an accountant and how they can help you grow your business.
This blog post is divided into the following sections
What is the role of a Bookkeeper?
A bookkeeper basically handles a business's daily activities such as recording invoices, processing payroll, recording daily sales, etc.
Whether the business is small or established, there are many bills, invoices and receipts to juggle with; a bookkeeper on hand will transform all these into something well organized, accurate and meaningful set of information.
These records made by a bookkeeper will lay a foundation for a business's final accountancy tasks.
A bookkeeper will add tremendous value to your business by processing all the financial transaction, paying all the business bills and chasing your customers for payments.
What is the role of an Accountant?
Bookkeepers record the data, and accountants process and analyze those data.
Accountant's tasks are not only limited to this as they do tax planning, deal with tax returns, advice on business strategies, cash flow planning, and the list goes on…
Even during starting phase of your business, accountants are the best port of call as they can help you decide on the legal structure of your business, point out routs to extract profits, help you draw your business plan etc.
When it comes to tax matters, accountants can advise you on the tax deductions you can claim or whether you should register for VAT or not.
In short, an accountant is a sounding board of ideas for your business and helps your business thrive.
Typical duties - Bookkeepers vs Accountants
Let's have an insight into the duties that accountants and bookkeepers typically perform.
Bookkeepers

Accountants

Streamline the day to day processProcess purchase invoicesProcess expense claimsIssue sales invoiceProcess and maintain payrollRecord business transactionsBank reconciliationsBalance booksChasing customers for payment
Device business plans Complete tax returns provide business and tax advice provider strategic tax planning financial forecasting analyzes business performance provide cash flow forecast prepared financial statements & reportsConduct

audits

Organize budget
Note – some of the tasks mentioned above can be performed by the bookkeepers and accountants both.
Accountants have more in-depth knowledge of a business's accounting and financial aspects and may act as a consultant to a company.
Shedding some light on similarities
Indeed! We get confused between a bookkeeper and an accountant because of some similar tasks they perform.
Bookkeepers and accountants both can give strategic advice on how to streamline the accounting process or suggest ways to minimize tax bills for their clients.
Both can handle some tasks such as preparing and filing VAT, running the payroll, preparing a self-assessment tax return, providing basic tax advice, etc.
In general, both the bookkeepers and accountants juggle with the financial data, share a common goal of improving their clients' financial health, and both are tax compliant.
And because of these similarities, their roles can overlap in small businesses.
Who will fit my bill - Bookkeeper or Accountant?
Deciding on whether you need a bookkeeper, an accountant or both, depends on your particular business needs.
Hire a bookkeeper when it feels like doing numbers is not your forte or you are spending more time handling books.
As we have mentioned above, bookkeepers comply with your business data whilst accountants makes sense of it and give you advice accordingly.
It is wise to hire an accountant from the beginning of your business as they can be a helpful advisor during many legal phases and help you avoid unnecessary errors.
If you are running a small business, then you can go with outsourcing a bookkeeper or an accountant for quite some time or until your business has about 30 to 40 employees.
When you feel like your financial tasks are falling behind even after outsourcing a professional, then it's time to hire a full time professional.
And as your business grows, you may need accountants and bookkeepers both.
Shifting landscape of Accounting and Bookkeeping by digitisation
Today, paper files and documents have been replaced by accounting software, electronic bills and invoices.
Accounting software makes it easier for professionals to work with their clients by using laptops and internet connections. Most of the software are cloud-based, meaning your accountant and you can access these from anywhere, and there is no need to instal updates all the times.
The most common of such software are Xero, Quickbooks, Sage, Freeagent.
This software automated many tasks such as,
Direct bank feed- fetching all banking transactions automatically
Recording payments & expenses
Managing payroll
Making payments- BACS files
Creating reports
Sending invoices, automated reminders
Payment gateway integration- Like Stripe, Gocardless
Multi-currency function- meaning exchange gains/ losses are computed and recorded automatically
Accounting software comes with tons of added functionalities and features which you can use as per your requirements.
Though digital advancement cannot certainly replace a professional, you still need a bookkeeper or an accountant to supplement your software.
You can hire an online bookkeeper or an accountant as a dedicated professional who can smoothly set up your accounting software and help you use it in the most optimal way for your business.
Final thought
In short, both the accountants and bookkeepers complete each other and lead your business towards progress.
By engaging professionals, you can get a complete picture of your business's financial condition while staying on top of all the regulations.
So, set your mind at ease and free your energy to do what is important by hiring an expert from Experlu today!
Okay! Let's find you a perfect Accountant, Tax advisor or a Bookkeeper
Get Started
About author