What exactly is CAS? Client accounting service
23 May 2022

6

minutes

read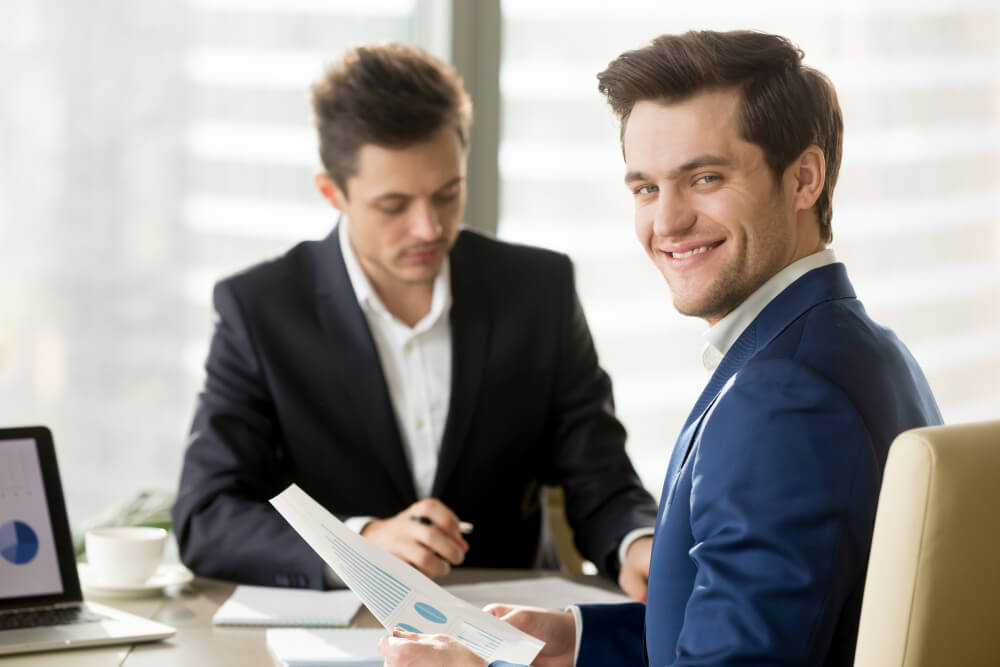 The accounting sector has developed significantly in recent years, introducing the concept of CAS (Client Accounting Services), which is gaining popularity among customers. Because the CAS concept places clients at the centre of all accounting services, its application can assist diverse accounting sectors in achieving maximum customer satisfaction.
There are several varieties of client accounting. Some provide simple bookkeeping services, while others specialise in complex accounting and consulting. Let's start with a concept of CAS before going into its benefits and best practices.


What does Client Accounting Services mean?
Client Accounting Services (CAS) indicate that your accountant handles the majority, if not all, of your company's accounting functions.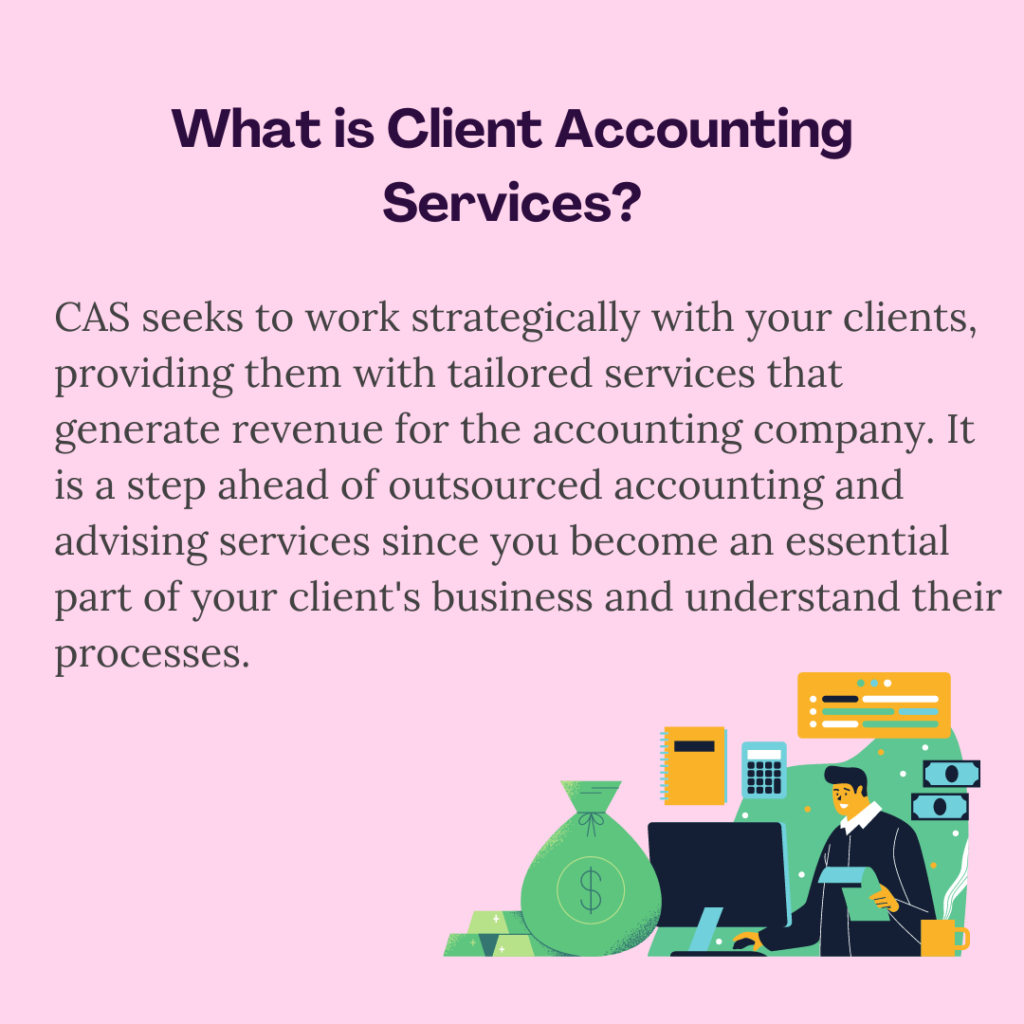 CAS seeks to work strategically with your clients, providing them with tailored services that generate revenue for the accounting company. It is a step ahead of outsourced accounting and advisory services since you become an essential part of your client's business and understand their processes.
Changing the narrative about accounting is the goal of CAS firms—you're no longer selling your time but rather your knowledge and experience. CAS providers usually charge their clients upfront using a subscription or value-based pricing model that spells out precisely what services they'll get.
It permits the accounting company to have consistent cash flow with payments before the task completion throughout the year. There are no hidden fees for the client, straightforward communication, and the relationship can develop into that of a strategic partner than purely focused on compliance work.


Businesses can benefit from CAS
CAS is growing as a valuable service line for organisations as the accounting industry evolves. Because cloud-based accounting technology allows firms and clients to collaborate remotely and supports additional service offerings, it is becoming increasingly popular.
To maintain and grow their businesses, more and more clients are looking for a broader range of services. Accounting firms can potentially attract more clients by offering CAS, but they will also be able to serve a wider spectrum of clients without increasing the workforce. CAS is highly scalable and flexible to businesses of any size due to technological advances.
CAS helps you acquire your clients' trust, and they rely on you to make critical business decisions. As a result, you gain a loyal clientele. It helps companies scale their business and also helps in its expansion as they obtain more clients.
It aids in the development of a long-term business model for your company and gives you an advantage over the competition, and ensures your long-term viability.


Why should you offer CAS?
There are three compelling reasons to give CAS to your customers:
1. Clients want and require specific services.
2. With the correct cloud technologies, you may provide Client Accounting Services with roughly the same number of resources your business presently devotes to client accounting activities, such as running trial balances and creating financial statements.
3. You can increase your revenues by 50% or more without adding new clients or employees.
In the end, providing Client Accounting Services is a win-win situation for both you and your clients. If you don't offer CAS, you're missing out on a lot of money.
Historically, businesses did data entry in the PC era, such as issuing invoices, paying bills, etc. Accountants used that information to complete trial balance and generate financial statements. This model, however, has several flaws. Small businesses had to engage a bookkeeper or accounting staff to undertake that function. For business owners, managing work internally was a significant issue.
Due to this strategy, accounting became an extremely inefficient commodity service with no tangible value.
On the other hand, the cloud has changed the way clients and accountants collaborate. It has enabled the integration of numerous applications designed to do specific tasks, leading to a more efficient workflow. It also automated certain crucial operations to cut down on data entry.
With the appropriate cloud solution, your employees can now perform everything your clients' employees do, only faster, simpler, and more correctly, without ever leaving the office.


How to get started with CAS and develop your business successfully
1.  You Do not require more resources to provide CAS
First and foremost, you do not need the resources of a larger company to begin providing CAS.
Second, and maybe more importantly, you don't need to take on more clients to increase your revenue significantly. Offering CAS to your current clients can boost your income significantly.
Lastly, it's critical to know that clients require CAS and that if you don't provide it, you're not only doing them a disservice but also wasting money.
2.  A strategic shift is not required to establish a successful CAS practice
A common misunderstanding is that CAS necessitates a strategic shift for accounting companies.
The research shows that this is not the case. It is essentially a natural extension of what your company already performs.
To put it another way, offering CAS does not need you to "transform," "reinvent," or "massively change" your practice. However, you must do a few things differently to succeed with CAS.


What are the CAS Best Practices?
Although different firms have different methods for dealing with CAS, there are few recommended practices that practically all accounting professionals or firms follow.
Remember these guidelines to provide accounting services to clients: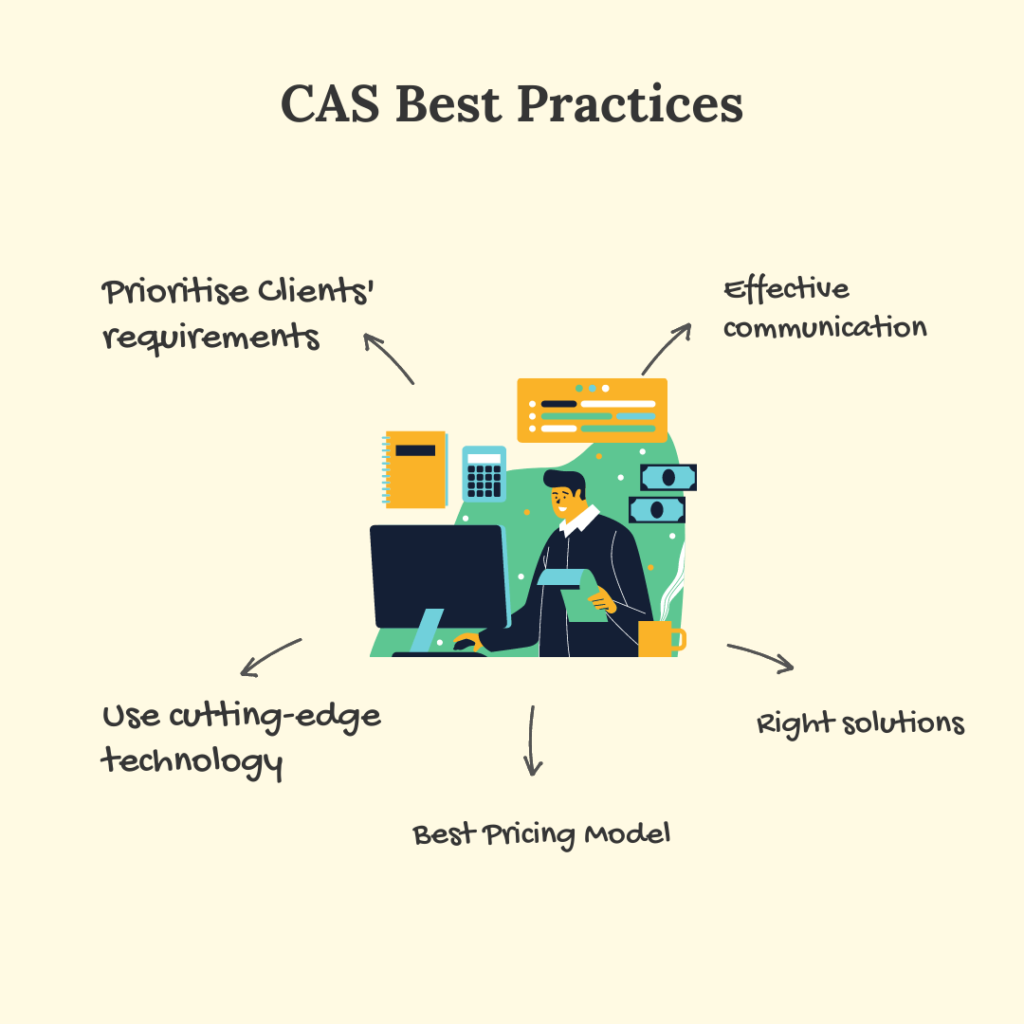 1.  Prioritise Clients' requirements
Offering customised services based on the client's needs is an integral part of CAS.
To accomplish so, you must first assess the company's structure and the services they require.
Some clients may need a firm or accountant to handle complex accounting activities. In contrast, others may request that you manage all accounting and financial responsibilities, including compliance, performance, transactional, and strategic services.
2.   Effective communication
If you have your business book, persuading other partners may not be a problem because you likely have a lot of flexibility regarding what services you can provide.
If you're a partner in a multi-partner company, one of the issues you can encounter is deciding whether or not to give CAS. More often than not, this big obstacle comes from a lack of comprehensive knowledge of CAS.
Most accountants are unaware that the cloud has made providing Client Accounting Services far more convenient and profitable. Firms with 5-20 employees have developed effective CAS practices with the correct solutions.
Invariably, the members in those firms gain a solid understanding of the new dynamics of CAS and are convinced that giving CAS is the correct thing for the company to do as a result of that knowledge. This awareness enables them to effectively communicate why they would be offering CAS to their workers and other partners.
3.   Use cutting-edge technology
The most successful use of any new technology necessitates a re-evaluation of your current procedures, followed by a decision of what modifications are necessary to make the most of that new technology.
CAS providers must employ the most up-to-date cloud-based software to make the accounting process more accurate and cost-effective. You may communicate with clients from anywhere in the globe with cloud-based technologies.
Furthermore, these tools save time and automate compliance tasks. It will be less expensive due to technology usage in accounting processes.
4.  Best Pricing Model
It's critical to establish the correct price plan when providing high-quality services like CAS. Working on an hourly basis is preferable to charging a one-time fee for a particular service.
Value-based pricing is a realistic option in which you charge clients based on the perceived value of your service or according to their preferences. You can provide multiple packages to different clients using this pricing method.
5.  Right solutions
The ideal solution allows you complete control over your client engagements. Can a product designed primarily for small businesses and offered directly to your clients give you that control?
Another factor to examine is the accounting solution's primary goal. Any corporation that sells its products to small businesses directly expects the small companies to do most of the accounting. The premise of CAS is precisely the opposite.
You can also think about the extensive needs of providing CAS. When you provide CAS, you're doing many different things for many other people.
Using this strategy, you should see a 20% to 50% increase in net income from CAS if you employ the correct solutions and build more simplified procedures. Your employees will be twice as productive as your clients' staff. You'll also be spreading your overhead across numerous clients.


Final thoughts
If you're serious about doing what's best for your clients and your company, the question isn't whether you should offer CAS but rather how you can do it quickly and profitably with few resources.
Keep in mind that you should begin your CAS career with a small group of existing clients. Employ a progressive "learn-as-you-go" approach that equips you to expand your CAS practice as you gain experience gradually. If you want to expand your practice, it can help you in a better position to attract new clients by providing them with what they want and need.
Okay! Let's find you a perfect Accountant, Tax advisor or a Bookkeeper
Get Started
About author