Top 10 secrets to grow your business easily and quickly
27 Jun 2022

6

minutes

read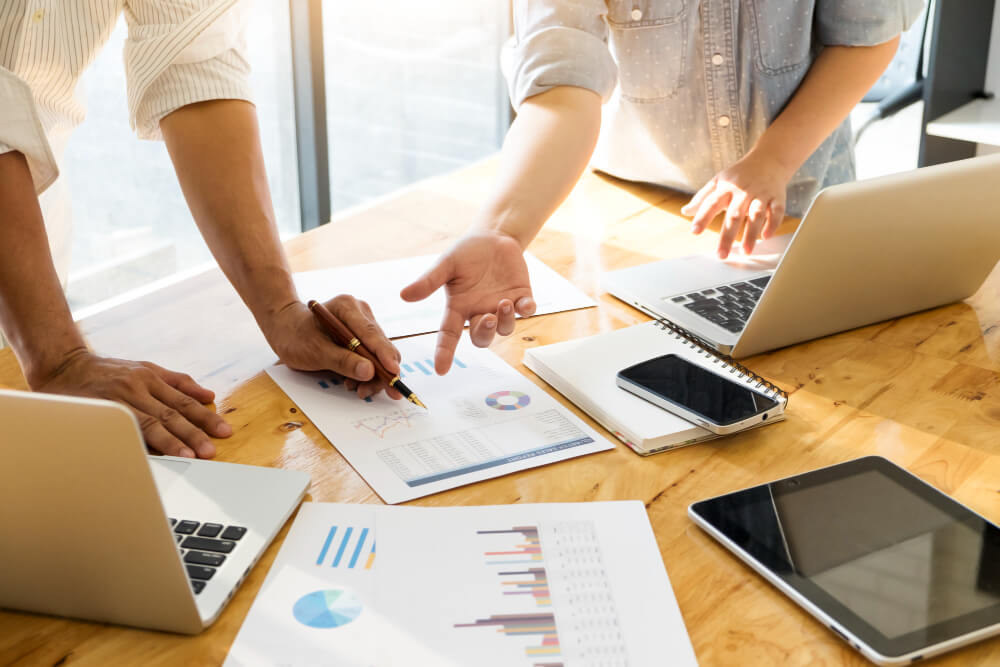 To be successful in today's corporate world, you must be adaptable and have excellent planning and organisational skills. Every entrepreneur strives to grow their company to the next level. To grow business in the UK may be a long and hard road with many ups and downs. You might have to deal with more challenges than expected, and you'll have to improvise.
Scaling your firm will require significant time, effort, and consistency. It entails resource management, efficient growth plans, and difficult decisions. Financially, the early stages of your company's development will be the most difficult. You might face the problem that you will have no prior data. You need to check expenses and aim to increase profit margins.
Entrepreneurs strive for perfection in everything they do and want to be the best. They must get out of their comfort zone and take the necessary steps to grow the company.
This blog post will go through ten ideas for expanding your business quickly.
1. Hire the best people
Before you can even consider expanding and developing your company, you must first ensure that you have the right people on board to assist you. Having a solid team on your side is the only surefire approach to accomplishing rapid growth.
If you're a business owner, figure out what you can handle and what requires external assistance. If you don't have the expertise or time to take on some tasks, you should outsource them; otherwise, your company's growth and development will be slowed.
2. Invest in yourself
You'll probably have a very low-profit margin (or none at all) in the early phases of your firm, so any money you make should be invested in helping you develop.
The ability of a company to invest in itself helps in accelerating growth. It's vital in those early years to ensure that any profits are reinvested in the company. It's critical to spend early and carefully if you want to expand quickly.
Determine which aspects of your firm require additional attention. When you find a crucial area that needs improvement, give that area your financial support.
3. Understand the business know-how
Of course, you must understand the nitty-gritty of a business. A company has many moving components that you need to be aware of to have complete control over them.
There are a few fundamental business skills that you need to develop or be familiar with even if you wish to delegate these to others:
Strategic management: Developing a strategic plan for your company and sticking to it
Basic Accounting: Understanding Which records to keep, how to maintain them and how to file them
Financial management: Where to look for funds and how to manage them once you get it
Marketing: How to advertise your company through traditional and digital media
Sales: How to close a deal and take care of your customers
Operations management: Selecting and managing your suppliers
4. Use multiple marketing channels
Most companies make the mistake of limiting to online-only or retail-only operations. Try reaching out to your customers in multiple ways. Modern technology can assist in the expansion of your company. If you own a retail store, you should think about expanding into the online world.
Start by creating an online presence on a website or through social media. These are also incredibly effective marketing techniques. You can employ emails, social media advertisements, and influencer marketing to reach more people.
Similarly, if your company primarily operates online, you should take a more direct approach. You can use a more traditional approach to marketing like catalogues, posters, or pop-up stores. Mix and match your marketing channels to evaluate which ones are most effective for your company.
5. Create a sales funnel
Building a sales funnel system is one of the most effective ways to expand your organisation. It's the path your prospects take to purchase your items or services and become customers.
Consider the various sales funnels carefully. Increasing the number of customers that go from one stage of the funnel to the next can affect your firm.
Your sales could generate from a sales team, retail store, website, or personal consultation. Building a sales funnel will set a consistent sales process, where your sales pipeline is always full of hot and cold leads.
6. Research your service providers well
You may need support to do what you want to accomplish in the enterprise. A service provider can help you with that. However, knowing a service provider well before you choose one is critical to ensuring they will fulfil your objectives and assist you in achieving your goals.
Your chosen service provider will handle tasks and processes that ensure efficient day-to-day operations. As a result, it's crucial to determine whether or not they can provide high-quality service and are suitable for your company's requirements. Before selecting a service provider, keep the following points in mind:
Check whether they've worked on a similar project.
Ask for references and work samples.
Ask about how they plan to maintain strong communication with team members from your side.
Determine whether the organisation has the technical expertise and project management experience to match your needs.
7. Extend your market reach
There are several methods of growing your firm by making your product or service available to a new pool of customers.
· Open stores in new locations
You can create a virtual store like a website with an online store. It allows you to introduce your item to new buyers in a different market.
· Target a new demographic
Determine whether other groups could benefit from your product as your initial target audience did. Once you've determined a new market, you can promote in media that targets that audience or create custom marketing campaigns.
· Encourage new uses for your product
You can encourage existing consumers to buy more by advertising new ways to use your products or services. It can also assist you in attracting new clients who might require your items for several reasons.
All of these methods assist you in increasing your market share. It not only boosts sales but also strengthens your business model. You're more likely to survive market changes if you don't rely on just one type of target consumer.
8. Analyse your competition
Competition breeds the best results. If you want to succeed, you can't be afraid to explore and learn from your competition. They may be doing something well in their firm that you can utilise to make more money.
The way you examine competition will differ depending on the industry. If you own a restaurant, you might be able to acquire knowledge by dining at your competitors' restaurants and questioning other customers about their opinion.
You might be a chemicals company with considerably more limited access to your competitors. In such an instance, you would work with an accountant and business professional to go over what the company presents to the world and any financial data you may be able to get from the firm.
9. Focus on your customer experience
Customers' impressions of your firm can make or break it. If you give them better experiences and products, they'll instantly praise you on social media; if you don't, they'll inform the world even faster. Making your potential and present consumers happy with their experience is critical to rapid growth.
Compared to large corporations, small businesses are more flexible and are frequently better able to see, predict, and respond to their consumers' requirements. Small firms that succeed take advantage of this by bringing new and innovative products and services to market faster and creating and cultivating long-term client connections.
Diversify your offerings so that you can best cater to the shifting tastes of your customers. Remember, you're open for business to serve the customer. While engaging with your audience is essential, personalising the experience can help to strengthen and expand that relationship.
10. Choose the right growth strategy
The right growth strategy is determined by the stage of your organisation and the resources you currently have. Consider how much money, time, experience, or employees you have to invest and your present market, business goals, and customer interests.
Not every plan will be appropriate for every company or appeal to every owner. To get started, follow these steps:
Choose one or two ideas that are suited for your company and circumstance.
Create a new business plan based on that strategy.
Set benchmarks for growth, expenses, and revenue.
Keep track of these benchmarks regularly to monitor your progress.
While you won't see results immediately, you will see progress if you stick to your strategy and follow it stepwise. If one system fails, be ready to take a step back, make a new plan, and try again.


Final thoughts
Running and operating a business is a difficult task. It can be challenging and daunting to manage with many moving parts you need to check. However, starting your own business can be one of the most rewarding decisions you'll ever make if done correctly.
Prioritising your firm's growth is one of the best methods to ensure that it survives and contributes to your economic well-being and a secure financial future. Starting a business takes critical thought, careful planning, and efficient record keeping. It's crucial to be aware of your competitors' strategies and improve your performance accordingly.
Okay! Let's find you a perfect Accountant, Tax advisor or a Bookkeeper
Get Started
About author